Educated Messes: Mental Health, Relationships, Work, & Well-Being
A podcast to help you sift through the bullsh*t around work, well-being, and relationships. We're passionate about taking care of our mental health so that we can show up in the world feeling as good as possible. We ask questions, seek answers, and share our own experiences – to help you navigate the messier parts of life. Because trial and error is a lot easier when we do it for you.

We're a couple of deeply introspective gals with a lot of feelings, over a decade of friendship under our belts, and a few too many self-help books on our shelves. We've always been fans of a good, long, life chat and we wanted to create a space where we could explore the Big Questions, Big Ideas, and Big Feelings that were on our minds as women navigating our late 20's. We lean into curiosity, vulnerability, and research-backed learning to help each other grow; we're strong believers that being able to show up for ourselves and each other through gritty times is one of the most beautiful and important things we can do in this life. Our hope is that in sharing and unpacking our own stories and experiences we might help others feel less alone in their own messy, wonderful lives too.
www.educatedmesses.com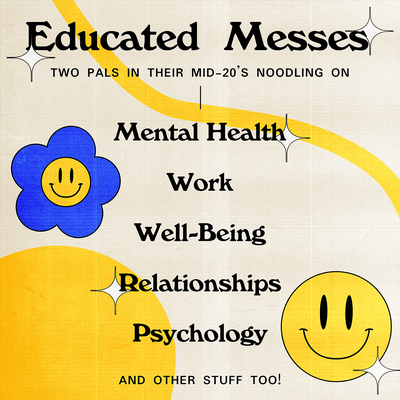 🎧 Podcast episodes
Listen to 26 episodes