Electric Ideas with Whitney Baker
Welcome. If you're a woman who has a sense there's more out there for you in your life, I've got you. You're in the right place.

I'm Whitney Baker, host of Electric Ideas. Somewhere along the line with work and kids, life carried on, but I lost track of my truth. I felt like something was missing. Like my energy was splintered and I was trapped reacting to a flurry of outside demands.

I'm on a reflective journey and that's what this podcast is about. We talk about ideas, practices, and habits that help women get back to their heart center and live more fulfilling lives.

Each week, I interview a woman who is lighting her own path. Before our conversation ends, we'll share a reflective question for you to ponder, chat with your gal pals about, or even journal about if you're so inclined.

I started this podcast because I know when women step into their fullest selves, the whole world benefits. Sometimes all we need is a jolt, a laugh, a fresh idea…an aha moment that connects us back to ourselves and our buried truths.

This my friends, is what I call an Electric Idea.
electricideas.libsyn.com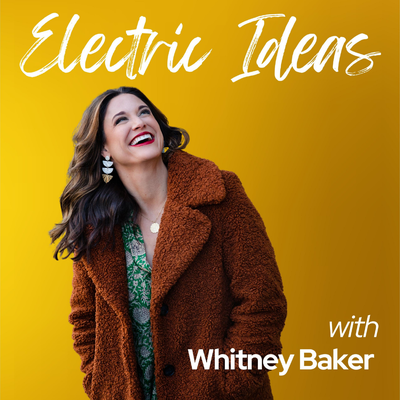 🎧 Podcast episodes
Listen to 85 episodes