Health with Hashimoto's, Autoimmune Disease, Hypothyroidism, Thyroid Problems, Woman's Health
Tired of feeling exhausted and overwhelmed by your Hashimoto's or thyroid problems?

The Health with Hashimoto's podcast is your resource for holistic, root-cause solutions to regain your energy and create lasting wellness.

Hosted by Esther Yunkin, a registered nurse, holistic health educator, and Hashimoto's warrior, this podcast covers everything you need to know about Hashimoto's and thyroid problems, including:

* What is Hashimoto's?
* Why do people get Hashimoto's?
* How to address the root causes of this autoimmune disease
* Natural remedies and lifestyle changes that can help you feel better
* Tips for managing your Hashimoto's symptoms and preventing flares
* How to take control and be the CEO of your own health
* Support and inspiration from other women who understand what you're going through
* Holistic Health for Hashimoto's founded on science from a non-woo perspective

If you're ready to take control of your health and reclaim your life, then subscribe to the Health with Hashimoto's podcast today!

Download your free guide, Hashimoto's 101, via the link in the show notes of each episode.

This podcast is for information only and is not provided as medical advice.
healthwithhashimotos.com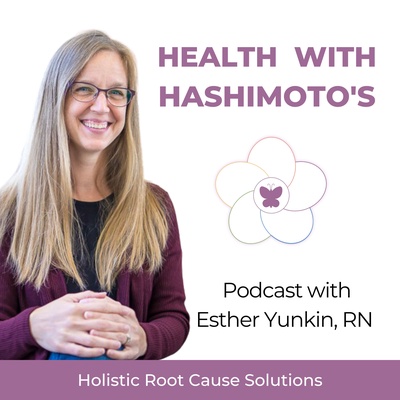 🎧 Podcast episodes
Listen to 83 episodes