How Can I Say This...
The "How Can I Say This…" podcast offers tips and advice for interpersonal communications challenges, such as difficult conversations, conflict, giving and receiving feedback, negotiating, and other situations where what you say and how you say it makes all the difference.
Your host is Beth Buelow, PCC, founder of ZOPA Consulting and author of "The Introvert Entrepreneur: Amplify Your Strengths and Create Success on Your Own Terms." Beth's credentialed professional coach and trained mediator. She loves finding the "Zone of Possible Agreement" (ZOPA!) in any situation that comes her way. She hosted The Introvert Entrepreneur Podcast from 2010-2018.
In every episode of "How Can I Say This...", you'll find ideas about how to handle your communication conundrums; tips on feeling more confident and comfortable with conflict; opportunities to learn from real-life situations through questions shared by listeners; and ultimately, gain skills and techniques for dealing with sticky situations at work and home. Of course, we can't be all talk and no action; each show will end with an invitation to try a particular technique or approach that came up in the episode.
Episodes will feature a mixture of commentary, listener questions, and expert guest interviews and contributions. The scope of conversation will evolve over time… we're open to seeing where this goes. Thanks for joining us on the journey!
---
Hosted on Acast. See acast.com/privacy for more information.
howcanisaythis.com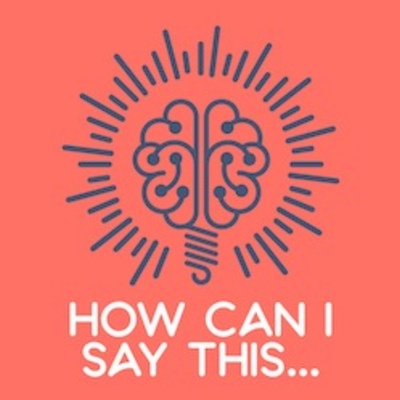 🎧 Podcast episodes
Listen to 81 episodes