d'Skills in Action
Welcome to "d'Skills In Action," where we're flipping the script on traditional education and career paths! Tired of being told that college + degrees are the end-all-be-all? Welcome to "d'Skills In Action," where the real talk is about d'Skills and real-world IMPACT, not just diplomas. Hosted by 25-year-old Hannah Williams, founder of d'Skills, and 20-year-old Swetha Tandri, founder of Melodies for Math, this podcast is for high schoolers, gap year students, and (epic) parents with a different mind.

Each week, we serve you two dynamite takes: d'Skills Deep Dives and Rebel Roundtables. In d'Skills Deep Dives, we showcase students around the globe who are making real-world impacts right now—and aren't relying on their degrees to do so. In Rebel Roundtables, we bring unconventional leaders and experts to chat about their unique journeys to success.

Why does this podcast matter? In 2023, less than 30% of employer think college grads have 21st century skills... despite having degrees. BIG YIKES. We're building a new narrative, one where skills and real-world impacts are the stars of the show.

But hey, we're not just a podcast; we're a community. So, don't just listen—join the conversation at dskills.io/community.

Hit that subscribe button and let's ditch that script. 🎉

Disclaimer: This podcast was formerly known as the "Native Digital Native Analog Show" but has now been rebranded as "d'Skills In Action."
www.dskills.io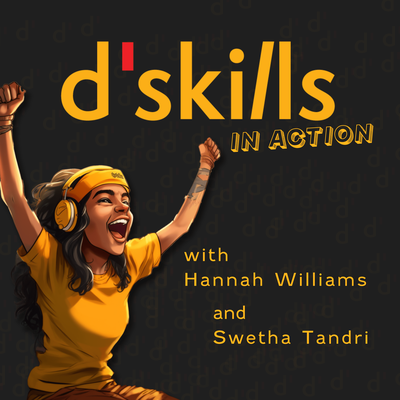 🎧 Podcast episodes
Listen to 63 episodes