The Stay at Home Nurse
Serial entrepreneur, business coach, and best-selling author Deanna Cooper Gillingham RN, CCM went from bedside nurse to lifestyle entrepreneur. She started her business as a side hustle in 2014 and was able to quit her day job and move to a beach on the Caribbean Sea in 2016. Since that time she has been supporting her dream life with her lifestyle business taking it from a grind to a thriving business that she can run in a few hours a week.

Now she will help you to do the same! She will inspire and equip you to discover what you want your dream life to be, create a business that will support that lifestyle, and get that business to thrive so that you can live the life you want.

Have you ever asked yourself... How can I make money online? How do I stop making my employer rich and start reaping the benefits of my hard work? Am I ready to quit my job? What does it take to build a profitable business? How do I make my business work for me instead of creating another job for myself? How do I get my dream life? How do I create a business that supports the life I want to live? How can I create passive income? How do I market my business? Do I have to wait until I retire to be happy? Then listen and learn!

Whether you are dreaming of creating your business, have a side hustle, or already have a business this is the podcast is for you! It's a mix of special co-hosts, interviews, and solo shows where you will hear action steps, tips, and inspirational stories that will help YOU design your dream life and business.

The Stay at Home Nurse Podcast covers everything from monetizing your expertise, creating multiple passive income streams, marketing yourself as the go-to leader, creating and launching online products and services, email marketing, outsourcing and building a team, social media strategies, building authority online, affiliate marketing, managing finances, and productivity tips so you reach your goals without burning yourself out.

Deanna openly shares her wins, losses, lessons learned, and the truth about what it takes to build a business that supports your dream lifestyle. If you want a private jet, Lamborghini, or your own island, move on. But, if you want to learn how to create a business that gives you the freedom to leave your soul-sucking job and create a business that makes you excited to get out of bed each morning, hit subscribe and get ready to change your life!
thestayathomenurse.com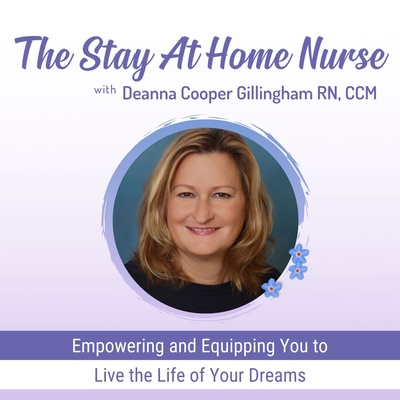 🎧 Podcast episodes
Listen to 89 episodes