THE VIBRANT SURVIVOR -How to Identify a Narcissist, Narcissistic Abuse, Toxic Relationships, Childhood Trauma Healing
***TOP 5% PODCAST***

Disconnect and heal after narcissistic abuse.

Do you want to disconnect from narcissistic or toxic relationships?
Are you feeling stressed and lonely in dysfunctional family and work environments, or social groups?
Are you ready to heal after narcissistic abuse?

In this podcast, you'll find holistically healing solutions to set you free from narcissistically abusive relationships, trauma-related health issues, and the enabling of toxic behavior. My mission is to help you heal after narcissistic abuse through holistic health, trauma support, and boundaries.

If you're ready to disconnect from dysfunction and prioritize your healing after narcissistic abuse, then you're in the right place!

Hi, I'm Lesley. A wife, mom, and narcissistic abuse survivor. For years, I rationalized toxic relationships and dysfunctional environments, in an effort to find connection, purpose, and success. I fell for lies, fake opportunities, and empty promises, wasting my time, talents, and money. It took a toll on my mental health (Hello, CPTSD!); and it almost cost me my life…literally.

I finally realized that if I was going to break the cycle and heal my childhood trauma from the inside out, I needed a holistic approach. I reclaimed and redirected my resources towards solutions that helped me to put the narcissists in my life in my rear-view mirror. After applying some stealthy strategies for drama-free exits, protecting my peace, and pursuing my goals, I was determined to help others to identify, navigate, and heal from this insidious form of abuse. I went to school and became a Master Certified Health Coach and Certified Trauma Support Specialist. And I'm here to teach you how to disconnect and heal after narcissistic abuse.

If you're ready to experience healing after narcissistic abuse that focuses on YOU; holistic health and wellness solutions with real results like greater clarity, confidence, a more positive mindset, healthy boundaries, and better relationships – this podcast is for you!

Take a deep breath in…Let it out slowly…And just relax, this time is for you.

Contact: [email protected]
Instagram: @thevibrantsurvivor


***DISCLAIMER: This podcast is for educational purposes only. Any reliance you place on this information is strictly at your own risk. Lesley Cain is not a doctor, therapist or counselor. If you need healthcare, medical attention, therapy, or counseling, please seek professional help from a licensed practitioner.
thevibrantsurvivor.com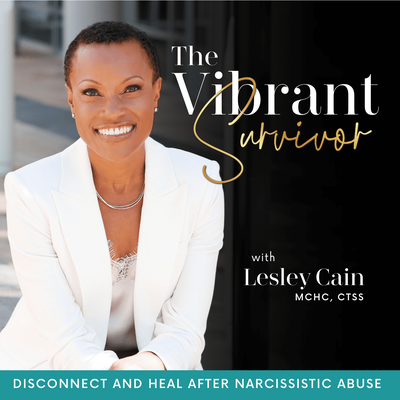 🎧 Podcast episodes
Listen to 26 episodes