Creatively Performing Arts - Learn to Sing, Start Acting, Start Dancing, & More!
Do you wish you could find time to sing, act, and dance again like you did growing up? Do you want to be more bold and confident in auditions, dance classes, voice lessons, and on stage? Are you unsure how to start singing, performing, or training in your craft again after taking time away from the arts?

I get it, I've been there and I'm still figuring things out! Hi, I'm Estelle, a singer, actor, dancer, beginner voice coach, Christian, and theatre kid at heart even in my 20's! I grew up singing, dancing, acting and loving Broadway and the arts, but the world kept telling me to save the arts for retirement or the weekends because they weren't "serious pursuits". I realized that God gave me those gifts for a reason, so I decided to start intentionally growing my skills in singing, dancing, and acting! I'm so glad I decided to START!

Whether you want to perform as a serious side hustle, a career, or an intentional creative outlet, I'm here to help you get out of imposter syndrome, fear, and self-doubt to help you finally start or restart your creative journey in the performing arts!

On this show, you'll get beginner singing and performing tips so you can find songs you love for auditions, learn how to love and grow your singing voice, find dance classes online, and more. You'll get goal planning tips to help you manage your time and consistently move towards your creative goals. And, you'll find faith-filled mindset hacks to help you move past fear, imposter syndrome, self-doubt, and rejection so you can be bold and confident in your art!

With incredible, creative guests and my own current and past experiences, this will be your one-stop shop for all things singing, dancing, and acting for beginners! Plus, you'll hear lots of fun musical theatre references!

Alright theatre kids and choir lovers, this is our time. Let's start fully embracing who we are as artists and using our God-given creative gifts again!
www.creativelybyestelle.com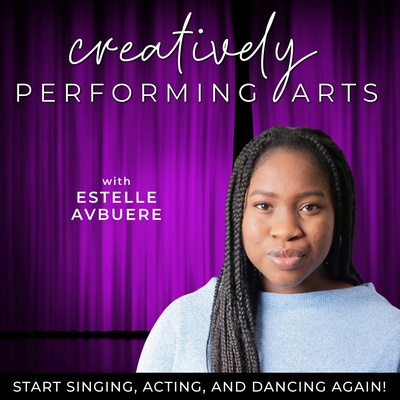 🎧 Podcast episodes
Listen to 111 episodes