Dance Informa presents Tony Selznick: The Hollywood Dance Podcast
Dance industry icon Tony Selznick is excited to be partnering with Dance Informa on The Hollywood Dance Podcast. Created with dancers in mind, episodes will cover everything from the history of dance to social media's impact on the industry and interviews with the legends of the Hollywood Dance Industry.
Tony Selznick, scion of the legendary Hollywood Selznick family, has been in the business of dance and choreography for more than 30 years. In his role as Founder and Senior Agent at McDonald Selznick Associates (established in 2000), Tony has been instrumental in the career development of some of the most sought-after film, television and stage choreographers in the world. Working with his partner Julie McDonald (who is the original pioneer agent in the dance world), together they have helped their clients bring movement to life in popular culture. In 2014 Tony and Julie made MSA Associate and director of the "on camera" department JC Gutierrez a partner in the agency. MSA is proud of the fact that many of their clients have transitioned from dancer to choreographer, to creative director/ stage director on shows like Cirque Du Soleil, and now to executive producer of some of televisions highest rated shows including American Idol, America's Got Talent and NBC's new dance show WORLD OF DANCE.
Tony's first big break was as a dancer in the 1980 motion picture Xanadu starring the legendary dancer-choreographer Gene Kelly (choreographed by MSA client, Kenny Ortega and Russell Clark). After numerous appearances in music videos, television shows and feature films, he began choreographing and creating competitions and producing events such as Winners Dance Competition and the First Annual American Choreography Awards. In 2009 Tony was asked by his friend Simon Fuller to be the American Judge on Superstars of Dance, NBC's first international dance competition. In 2014 Tony and Jason Galoob created DANCEAMATIC, a digital ecosystem designed to give the global dance community a vehicle for discovery. They not only created the first platform of its kind, but were able to sign the biggest influencers in the dance space. MSA now boasts the only dance "Influencer" client roster of its kind. In 2016 Tony created THE CAMP with MSA associate Shelli Margheritis, a summer program for the aspiring professional dancer with exclusive workshops and master classes with MSA's established clients, documented by MSA's roster of Youtube Directors. In 2017 Tony sold a scripted drama about the music industry to E! called THE FACTORY written by Alex Sabeti. Tony's partners in this endeavour are MSA Client Jamie King and mega music producer, Randy Jackson. In 2018 E! bought a dance reality show (called DANCE DYNASTY) created by Tony, his associate Jennifer Proctor and client Mikey Minden. The show is co-produced by Randy Jackson and takes place in Las Vegas.
Tony has another pride and joy – his two beautiful daughters Violet Selznick and Scarlet Selznick.
www.danceinforma.com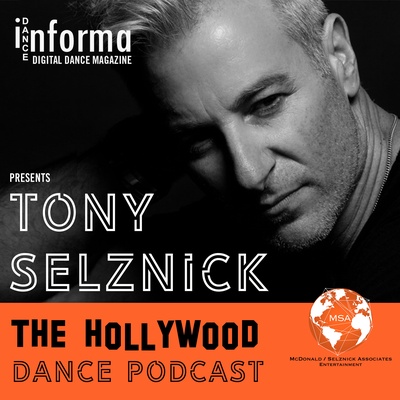 🎧 Podcast episodes
Listen to 6 episodes