Goddess Of Crypto
The world is rapidly moving towards a new digital future. For the first time in hundreds of years, society sees a brand new energy of money in the form of cryptocurrency. It promises safety and security for the virtual transactions that take place every single day.
With the crypto industry enjoying nonstop growth, you may be wondering how to take advantage of this flourishing trend. Can this opportunity lead to financial stability? Discover how it can change your life for the better with Halle Eavelyn, as she channels the Goddess of Crypto.
Featured in Time Magazine and USA Today and Good Morning America, Halle is a Transformational Wealth Coach, speaker, and writer who helps women clear their old patterns and beliefs so they can call in the financial power that brings freedom. Clearing the past experience of money makes it possible for her clients to cross the bridge to money's future, which Halle sees in Decentralized Finance and cryptocurrency.
Drawing on over 30 years of business experience in software, real estate, film production, and travel, Halle's work with a variety of intuitive modalities is both deep and extremely fast, with clients experiencing powerful shifts in their thinking, feeling, and behavior regarding wealth. Her latest programs include Wealth Reclamation and CryptoCurious .Join her in this powerful shift in how you think, feel, and behave around money.
Each week, Halle talks about achieving financial freedom through crypto. Discover crypto's profound impact in elevating yourself to a strong, independent woman. Halle is your trusted guide in healing your financial foundations, aligning values with your wealth, and shattering your money ceiling. Start reaching for higher success than you have ever imagined.
Hear from wonderful guests who share their expertise in becoming financially empowered women. They are on the frontlines of today's financial evolution. They know what it takes to support other women in this nascent industry. Find out their best approaches that lead to rewarding results.
Together with these amazing individuals, Halle breaks down technical concepts into easy-to-digest discussions to teach you how to surf the cryptocurrency waves. By embracing mindfulness and sorting out your money at the same time, you are on your way to hitting your goals and milestones. Learn how to maintain the balance between money, passion, and beliefs. Start realizing your dream life through this podcast.
Cryptocurrency is becoming mainstream, and it has yet to unleash its full potential. Soon it will change the digital age in significant ways. As we find ourselves in the dawn of this financial movement, take advantage of everything it has to offer. This is perhaps one of the most positive things our generation will experience financially. Let it reenergize your life and set yourself up for bigger things ahead.
If you are crypto-curious and want to learn how this industry can give you a better life, Halle will reveal everything you need to know. Prepare to be enlightened by the Goddess of Crypto today.
---
Hosted on Acast. See acast.com/privacy for more information.
halleeavelyn.com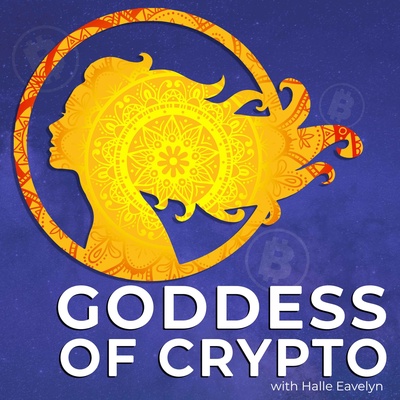 🎧 Podcast episodes
Listen to 78 episodes