Helpful Goat Presents: A Games & Gaming Podcast
From the creators of Goats & Dragons comes Helpful Goat Presents -- a special podcast feed dedicated to shorter, self-contained roleplay campaigns and lively conversation about games and gaming!

Helpful Goat Gaming is a small, independent team of storytellers, content creators, and game designers. Listen and enjoy as experienced and new roleplayers alike have a blast improvising, exploring, battling, adventuring, constantly-coming-thiiis-close-to-dying, and altogether co-creating fun and exciting narratives through the art of collaborative storytelling.

Find us on Twitter at @HelpfulGoat and on Twitch at http://www.twitch.tv/helpfulgoat. Chat with us--and with other Helpful Goat fans!--on our new Discord server at https://discord.gg/Q3AzpbN. And if you enjoy what you hear and want to help us make more content, please consider donating to us at http://www.ko-fi.com/helpfulgoat -- thanks!
www.helpfulgoat.com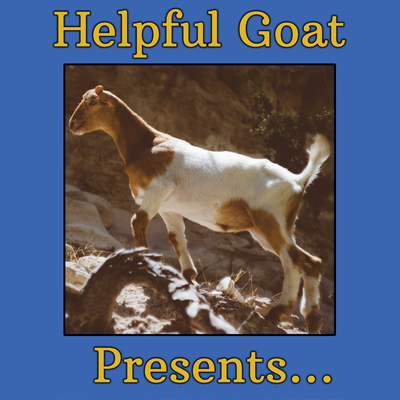 🎧 Podcast episodes
Listen to 105 episodes