How to Deliver Outstanding Events that Creates Engagement and Memorable Experiences
Stephen gets up close and personal with events and marketing experts around the world to uncover their secret sauce to creating spectacular memorable events and experiences.

How businesses today are looking to enhance engagement, education and conversion by supporting their in-person events and marketing efforts online.

How different industries such as healthcare, education, government, sports, tourism, retail are using technology to achieve scale and profitability alongside their in-person events.

How associations can increase their memberships and revenue opportunities with sponsors by driving engagement in and around their events.

Free tools and resources that are available to events organizers that can help automate their hybrid events to give everyone involved a seamless, stress free experience.

This Podcast series is brought to you by V-Unite Virtual Experiences.
www.v-unite.com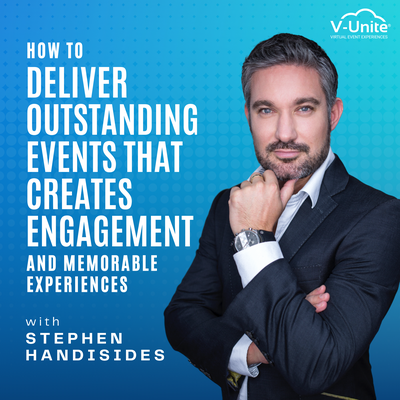 🎧 Podcast episodes
Listen to 37 episodes