How to Disaster
Welcome to "How to Disaster," the ultimate podcast for navigating the challenges of climate-based disasters, the defining crisis of our generation. With the increasing frequency and severity of these calamities, it's not a matter of if, but when you'll be affected. Whether you're a disaster survivor or seeking proactive strategies, this podcast is your beacon of hope.

In each episode, we delve into the profound stories and lessons from those who have triumphed over adversity. Hosted by the CEO of After the Fire USA & #Forbes 50 over 50 Impact leader (2022) Jennifer Gray Thompson, this podcast focuses on the stories of individuals from public, private and non-profit sectors that have encountered a disaster.

Join us as we bring you the most compelling insights, innovative solutions, and best practices to equip you with the tools to face any disaster head-on.
Recognized by top leaders in government, business, and the nonprofit sector, "How to Disaster" is the go-to podcast for those seeking a 360-degree view of disaster management. From gripping survivor accounts to exclusive interviews with experts, each episode offers a unique perspective that transcends conventional thinking.

Gain invaluable knowledge as we explore groundbreaking strategies, cutting-edge technologies, and sustainable approaches to disaster resilience. Our mission is to empower you with actionable steps to safeguard yourself, your community, and the planet. Together, we can shape a more resilient future.

Don't miss out on the transformative insights of "How to Disaster." Subscribe now to unlock the secrets of overcoming disaster and ensure you're prepared for whatever lies ahead. Together, we can turn the tide of catastrophe into a beacon of hope.

Listen to "How to Disaster" on Apple's iTunes, Spotify, Audible, Amazon Listen, and all other major platforms and discover a new era of resilience.

Keywords: climate-based disasters, global problem, hope, resilience, strategies, innovations, best practices, top leaders, government, business, nonprofit sector, survivor stories, 360-degree view, actionable steps, safeguard, resilient future.
afterthefireusa.org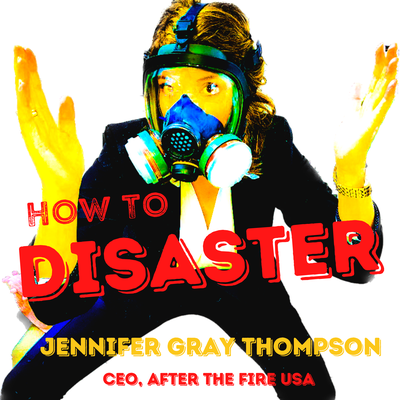 🎧 Podcast episodes
Listen to 84 episodes