How We Built This (and Stayed Happily Married)
Are you in business or ministry with your spouse? What does it take to build a successful business or ministry, without sacrificing your marriage? You can build something you love with the one you love!

Join Jackie and Stephana Bledsoe, authors, speakers, and the founders of HappilyMarriedCouples.com, as they share their candid conversations with the power couples who've built profitable businesses and impactful ministries, while remaining happily married through it all.

Each week on the podcast, Jackie and Stephana will sit down with a couple who has built a successful business, brand, or nonprofit. They'll also interview couples who run impactful ministries or have planted churches.

Their stories will encourage and inspire you to take action. You'll learn practical strategies to build a business that supports your marriage and grow a marriage that supports your business. And you'll see what opportunities are available for you today, and the steps you can take to launch, relaunch, or even start over.

If you're an entrepreneur, married to an entrepreneur, in business with your spouse, in ministry together, are a church planter, or run a nonprofit or charitable organization, this podcast is for you! Each episode you'll get a ton of value, enjoy a little bit of laughter, and receive uber inspiration in your entrepreneurial journey.

Like many couples, Jackie and Stephana have experienced the ups and downs of marriage and parenting. They've also experienced the challenges, lessons learned, and thrill of entrepreneurship in all but two years of their marriage, as they started their first business in January 2003, just 18 months after getting married in June 2001. Jackie is a self-proclaimed serial entrepreneur.

After giving birth to three kiddos, serving in marriage ministry for years, and launching several businesses of varying success (real talk!), they are still happily married and are dedicated to help as many couples, like you, do the same.

Your dream marriage and your dream to impact the world don't have to pull from one another. In fact, they can and should work together in a way that positively impacts your marriage and your work!

The How We Built This (and Stayed Happily Married) Podcast will show you it is possible to build a profitable business or an impactful ministry today — and there is no person better to build it with than your spouse.

For show notes, or more curated resources to help you thrive in your marriage and business, go to howwebuiltthismarried.com.
howwebuiltthismarried.com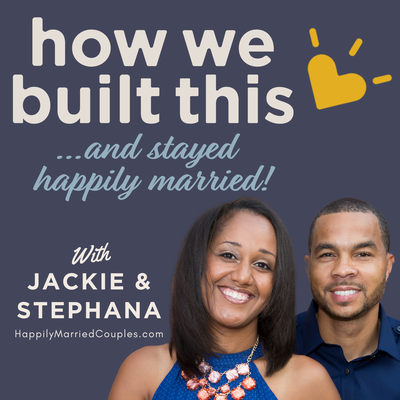 🎧 Podcast episodes
Listen to 12 episodes