It Is Complicated
Josephine Baird and Dr J are contrary beings, where the answer to every question is "it's complicated", what might seem to be simple topics, like name, age, pronouns, or more complex ideas like games, brains, pain and anger - are all treated with gentle discussion.
Josephine is a computer games academic, activist and artist - and is a "Femme of International Mystery"
Dr J has the job title "Harbinger of Change" at Thoughtworks, the gender "Transgressive Non-Binary GenderQueer" and is a Troublemaker and #queernuisance - "because ... branding".
They talk through topics from their various viewpoints - in a careful, kind and generally amusing way - even when there is pain there is laughter - because ... dark.
Exposure is great - it doesn't put food on the table. If you want to support us making more queer things like this- https://www.patreon.com/itiscomplicated
If you want to get into a discussion with us - https://twitter.com/ItIsComplicatd or find us on Mastodon https://ohai.social/@itiscomplicated
---
Hosted on Acast. See acast.com/privacy for more information.
shows.acast.com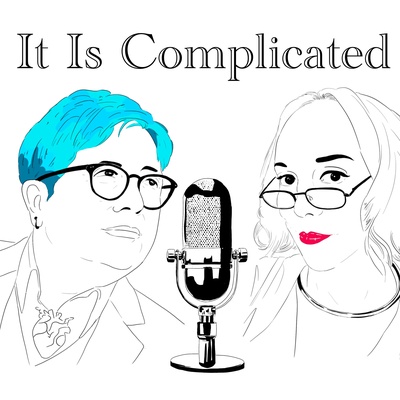 🎧 Podcast episodes
Listen to 61 episodes