It's About Time | Time Management & Productivity for Work Life & Balance
Welcome to It's About Time, a podcast about work, life and balance. Around here, we believe that busy is *not* a badge of honor, and that success and stress don't have to go hand in hand.

Each week, host Anna Dearmon Kornick shares time management tips, productivity strategies and real-life advice to help YOU make the most of your time.

From setting goals and staying focused, to making time for your family and self-care, Anna answers your toughest questions so you can stop spinning your wheels and start getting things done. Life is messy, so Anna doesn't hold back from sharing stories of personal struggle alongside the successes.

In addition to deep-dive how-to episodes with valuable takeaways that you can start implementing today, Anna interviews other go-getters to find out how they juggle careers, businesses, family, personal development, travel and more.

If you're ready to step away from the overwhelm and spend your time on what matters most, you're in the right place.
www.abouttimepodcast.com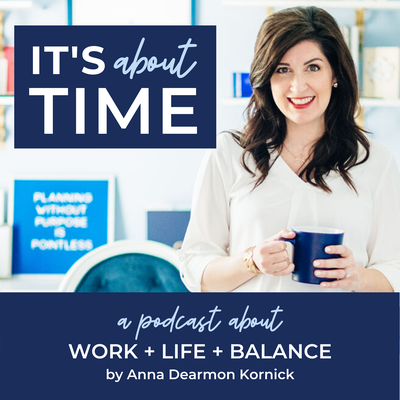 🎧 Podcast episodes
Listen to 187 episodes