Miss Conduct: A True Crime Podcast
Miss Conduct is a true-crime podcast about Indian women that committed some heinous (and sometimes, hilarious) crimes. Your hosts are RAGAVI RAMESH (a lawyer with 2 cats) and NISHA CHANDRASEKARAN (a PR professional who is allergic to cats).
We talk about criminal cases, unethical activities, and even morally dubious behaviour – all with women at the forefront.
Follow us on Instagram - @missconductpod
When we think of criminals in India, we have the big names – Charles Sobharaj, Dawood Ibrahim, Nirav Modi, Veerappan, Raman Raghav… the list goes on.

But what about Cyanide Mallika, who killed many women for money? Indrani Mukerjea, who may have killed her own daughter for financial gain? Madhuri Gupta, who sold her country for love? Haseena Parkar, the don of Mumbai? Or Shabnam, who killed her entire family for a man (that she promptly threw under the bus)?
I guess it's hard for us to believe that women can be criminals. But we want to make you comfortable with the notion that female criminals exist – that they have motives, they have intent, and that they can be bad people.
Join our mission to uncover famous and interesting Indian female criminals. We investigate 13 women every season and ask ourselves – why did they end up on the wrong side of the law? We don't have easy explanations for their actions. But we can promise that it will be a wild ride.

Hosts: 

Ragavi is an Indian lawyer and privacy officer. She loves reading about criminals and getting personally outraged by their actions. She loves skincare, pictures of small animals in baskets, and home organisation TikToks. Ragavi has two ginger cats. You can hear them screaming in the background of every single episode.


Nisha is an Indian PR professional. She investigates the media's perception of the women featured on the podcast. She also gets particularly mad when their motives are boiled down to "a crime of passion". Nisha loves her ukulele and harmonies, and would happily sell a kidney to hang out with Tom Hiddleston for one day. She is the godmother to Ragavi's cats. On an unrelated note, Nisha is allergic to cats. 
shows.ivmpodcasts.com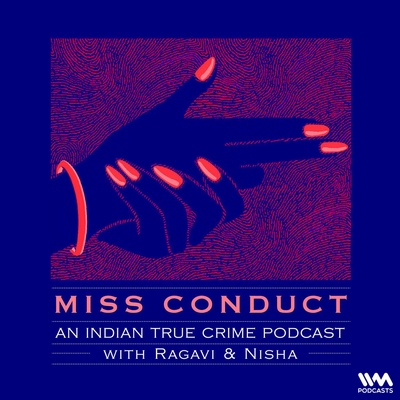 🎧 Podcast episodes
Listen to 41 episodes