The Art of Relationships Show
Greg is a Licensed relationship & intimacy counselor. Greg Dudzinski's "The Art of Relationships Show" will cover crucial elements in rebuilding emotional and physical intimacy, plus help reignite the passion in your romantic relationships!
 
He also welcomes live calls from listeners in helping with the above challenges! No more tit-for-tat arguments! Greg gets at the root of couples' challenges in a rapid, matter of fact format; plus uses compassion and humor! Greg specializes in building relationships that enhance intimacy, sexuality, and happiness!

Join in discovering how to improve your romantic relationship and your own life! Listen, laugh and grow happier! Greg is a Licensed Professional Counselor in the state of Michigan.

Licensed relationship expert answering & discussing questions to your relationship & sexual challenges in a genuine, safe & sometimes humorous format! Greg has been a relationship expert guest host on numerous radio shows. He promises that this show is for you and the listeners out there! This is not about shameless promoting and bragging about myself like many out there! Especially many so-called coaches without professional credentials or training. 

The Art of Relationships Show is for and about you, in becoming more fulfilled, healthier, and happier in your relationships and lives!
www.spreaker.com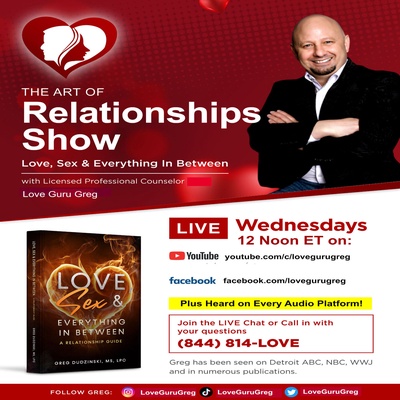 🎧 Podcast episodes
Listen to 579 episodes