Burn Fat and Feast podcast
Welcome to the Burn Fat and FEAST Podcast! This space was designed for women on a mission to live their best life. We will get into real, raw, refreshing and eye-opening conversations about wellness from the inside out; Covering topics like advanced nutritional strategies, mindset, organization, productivity, relationships, self-care, ideal workout routines, intermittent fasting, macronutrients, hormones, metabolism and so much more.

I'm Sarah Thomas, Founder and CEO of Burn Fat and FEAST, a comprehensive lifestyle program created for women who have "tried it all" and still feel stuck, frustrated and discouraged. We empower women to take ownership of their wellness by educating them on the research behind all facets of wellness. Whether you're 35 or post menopause, you CAN live a happy, healthy, lean and energized life.

Join us as we elevate your knowledge and ignite your life!

For more information about Sarah or Burn Fat and FEAST, please go to https://burnfatandfeast.com

Connect with us on your favorite social media platform:
Instagram: www.instagram.com/burnfatandfeast
Facebook: www.facebook.com/burnfatandfeast
TikTok: @burnfatandfeast
LinkedIn: https://www.linkedin.com/company/burn-fat-and-feast/

Join our FREE Facebook community to be surrounded by other women on a mission to live their best lives.

Rate, Review and Follow on Apple Podcasts

If you love this show, please consider rating and reviewing the show! This helps us support more people just like you, move toward the life they desire and deserve. Click here, scroll to the bottom, tap to rate with five stars and select "Write a Review". Then be sure to let us know what you loved most about the episode.

Also, if you haven't done so, follow the podcast. We add episodes every week to the feed and if you're not following, there's a good chance you'll miss out. Follow now!
sites.libsyn.com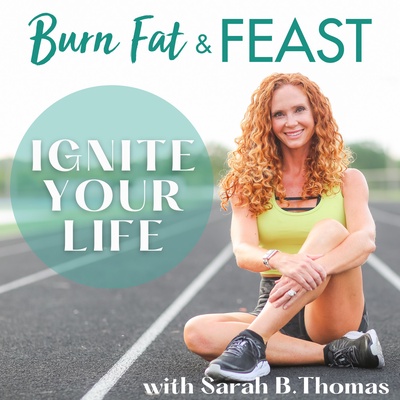 🎧 Podcast episodes
Listen to 88 episodes