Trademarks Made Easy
How do I create a strong trademark for my product and services? How do I differentiate myself from the competition? Can I actually make "competition" irrelevant with my brand? What are some of the other legal issues entrepreneurs face? How can businesses grow value in their brand names, and monetize their assets?

These are just some of the big questions that leading trademark attorney, Suzi Hixon, Esq., digs into on the Trademarks Made Easy Podcast.

In addition to trademark creation step-by-step guides, episodes discuss case studies of what to do and ~ sometimes even more importantly ~ what NOT to do, when creating a brand name for products and services.

Suzi's niche is getting into the trademark selection trenches with you. While selecting a solid product is important when selling on Amazon and other eCommerce platforms, Suzi wants online sellers to not gloss over the critical brand name creation element.

Thinking about getting into private label selling? Want to create a trademark that is distinctive, viable, and legally enforceable? Want to mitigate the risks of receiving the dreaded cease & desist letter?

Discover why thousands of entrepreneurs turn to Suzi to help them create amazing brand names that last well beyond the life of tangible products. While garlic presses rust away in kitchen cabinets, a strong brand name can last forever.

Learn how to monetize trademarks and strengthen them over time so that they can become a strong asset for your and your business.

Suzi's guidance can help you generate more profits for your private label business...profits that can go well beyond selling fidget spinners!

Remember, the information provided in the Trademarks Made Easy podcast should not be construed as legal advice. It's for informational and entertainment purposes only! It should not be considered a substitute for legal advice! Also, I'm not your attorney. You should engage with an attorney to discuss your specific legal issues.

And finally, while I've taken precautions to ensure that the content of my podcast is current and accurate, errors can occur and thankfully, like us, the laws are ever-evolving.
www.SuziHixon.com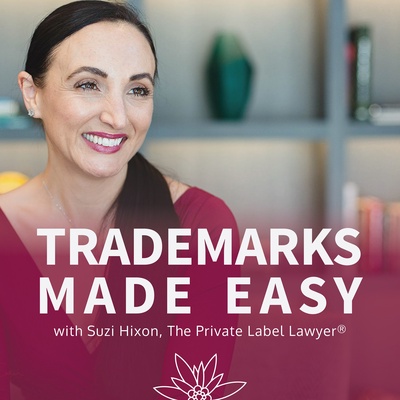 🎧 Podcast episodes
Listen to 42 episodes