Unspoken Terms
In each episode, I'll be talking with leading influencers, thought leaders, and creators. Diving deep into those eye-opening moments with guests where they share a not so pleasant moment in their thriving businesses and brands that caused them to re-adjust things big time. Particularly those instances where they entered into pivotal contracts without either understanding the obligations or most often, discussing key terms. Or put another way, the unspoken terms in contracts.

In sharing these stories, the hope is that you'll learn from each guest and avoid some of the same pitfalls as you build and grow your own brand and influence. I am your host, contract attorney Casey Handy-Smith, and I would love to hear from you! If you have any questions about the topics covered during an episode, you can visit our website www.chandylaw.com/podcast/ and click "ask a question." Periodically, I will have episodes dedicated solely to answering listener questions. So be sure to subscribe and listen in to get answers to your most pressing questions.

Lastly, if you have a story that you think other listeners would like to hear and learn from, let me know! Just visit our website and click "share your story." You just might find yourself in the guest chair.
unspokentermspodcast.libsyn.com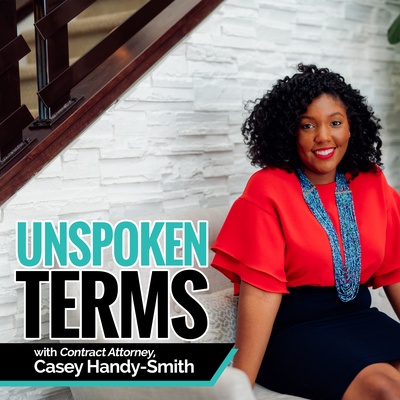 🎧 Podcast episodes
Listen to 68 episodes