Wonderfully Made
Step into your God-given identity, know your value and live the life you were made for.

Join author Allie Marie Smith and life coach Christie Myers for inspiring conversations with women of faith about mental health, body image, wellness, relationships, intentional living, intuitive eating and so much more. Receive practical wisdom and encouragement to help you thrive and live a wholehearted life of freedom and purpose.

Our culture is constantly bombarding us with lies and pressure to be more, do more, and hustle for our worth. We are here to be that voice of truth that comes alongside you on your journey, reminding you that you are not alone. You are loved just as you are. The world needs you as God made you to be, not as what our culture tells you to be in order to be worthy.

If you want to grow spiritually and flourish in your life, this is the podcast for you! Whatever your beliefs or questions about God —you are welcome here.

Through our inspiring conversations, you will be empowered to have agency over your life and seek God as you pursue spiritual, mental, and physical wellness. We have seen that self-esteem often falls short on its own. However, believing you are loved and enough in Christ has the power to set you free.

Consider us your friends, here to remind you of your God-given worth and that no matter what you are going through, Jesus is with you and loves you more than you can imagine.

No matter what your story or current struggles, healing and transformation is possible for you.

Step confidently in the direction of wholeness, healing, and love as you quiet the voices of the world and tune it to the wisdom of the God who knows you intimately and loves you perfectly.
God made you intentionally for a unique purpose and His eternal plan for you is better than you could ever hope.

We believe when a girl or a woman knows her true value it changes everything.

We are here to empower you to become the woman God created you to be through a life-changing relationship with Christ. The conversations we share will give you hope that you can overcome challenges, whether it be an eating disorder, depression or anxiety, and make peace with your body, create fulfilling relationships and live a passionate life of purpose and significance.

We want to help you create a life with God you can't wait to wake up to each morning. You are a woman of influence with the ability to make a lasting impact on the lives of the people God has put around you. You have been lovingly and wonderfully made and made for this time and place in history.

Hear from women like Sadie Robertson Huff, Bethany Hamilton, Morgan Harper Nichols, Ellie Holcomb, Jamie Grace, Sheila Walsh, Joni Eareckson Tada and so many more as they inspire you to live with confidence, faith and courage.

This podcast is for girls and women and is produced by Wonderfully Made®, a 501(c)3 non-profit Christian ministry dedicated to helping young women and the women who love them know their value and live spiritually, mentally and emotionally healthy lives.

Our theme verse is from Psalm 139:14: "I praise you because you are fearfully and wonderfully made; your works are wonderful, I know that full well."

To be fearfully and wonderfully made means that you have immense worth and dignity because God created you. You have been made with love and wonder and God is worthy of your praise.

Connect with us at wonderfullymade.org. We'd love to hear from you!

Please subscribe and leave a positive rating and review if this podcast encourages you.

Each guest's views are her own and are not always reflective of our organization.
sites.libsyn.com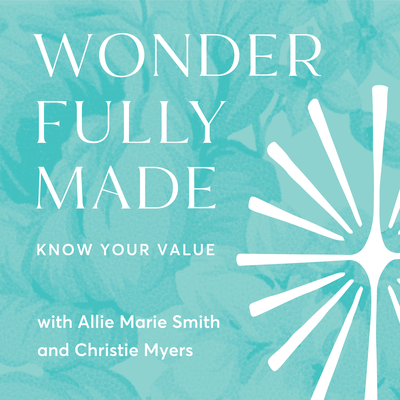 🎧 Podcast episodes
Listen to 174 episodes