Mom Made Plans - Intentional living | Productivity | Routines | Personal Development
Do you get to the end of the day and feel like you were busy but not sure what you actually accomplished all day?
Exhausted from trying to figure out dinner, organize the house, be a great mom and wife, read the bible, see friends, work, and maybe somehow have some me time?
Tired of feeling like you're doing everything but none of it really well or impactful?

This podcast will give you all the strategies and practical insights that make a productive yet easier mom life an actual reality. Here are just some of the areas of life you can be confident in improving:

-How to declutter your home to have less overwhelm
-How to plan a productive day
-Ways to be more intentional in your parenting and marriage
-How to prioritize your time
-Sustainable ways to make your days easier
-How to meal plan
-Keeping God first over your plans
-Learning self awareness to reduce your stress and improve your routines

If you're ready to trade in your struggles and let small simple steps give you the feeling of accomplishment each day, then let's get to it!

I'm Julie and honored to be your host and friend on this journey. I tried to be efficient and productive but it was a frustrating battle for years. I could never find the right routines, get the house cleaned up or find a good work/life balance. I never really felt productive at the end of the day. I was trying but failing my own expectations of how to make it all work.

I finally figured out why things weren't working when I began learning about self-awareness. No routine, schedule or list was going to work until I knew how I worked. And I learned it's always simple little steps that revolutionize our days, not hard complicated systems.

If you're ready to stop operating out of stress, have an intentional plan for the day, enjoy your home and your family, and dig deeper into your faith - this podcast is for you.

Let's get intentional and check those boxes!
www.mommadeplans.com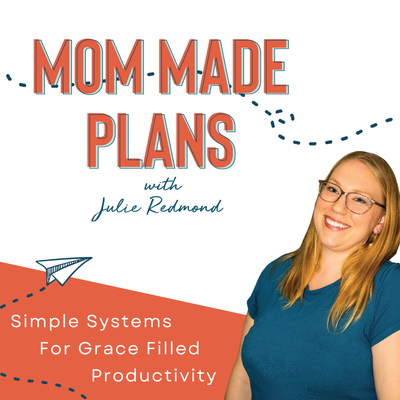 🎧 Podcast episodes
Listen to 144 episodes