SEO in 2023
We asked 101! of the world's leading SEOs to share their number one actionable tip for 2023. Check out our SEO in 2022 guide to learn from the best in the business, helping you stay one-step ahead of your competitors as we head into a new year...
You would have thought that if we asked 101 SEOs the same question (What is your number 1 SEO tip for 2023?) then we would receive lots of similar answers. Not at all. The industry is now so rich and varied that most contributors came up with an entirely different answer. Even where the topics were similar, the perspectives were very different. The advice in this book ranges from doubling-down on evergreen strategies to finding new and better ways to identify opportunities, how the SERP is changing, next generation tech, and so much more.

What's covered?

CHAPTER 1: Key Considerations – chapter one intends to provide an overview of what's changed and where SEO is going in general

CHAPTER 2: Auditing – what drives technical success in 2023 and what you should be looking out for that may harm your technical success

CHAPTER 3: Content Structure – why E-A-T is important, and how to structure your content in a way that appeals to people as well as search engines

CHAPTER 4: Targeting – why intent matters and how to focus your efforts on reaching the right person at the right time

CHAPTER 5: Content Planning – the key elements to incorporate as part of a content strategy

CHAPTER 6: Content Production – what to include in your content specifically, and what type of content works best

CHAPTER 7: Guide the Bots – how to help Google and other search engines more quickly and more easily understand, and be confident in the meaning of your content

CHAPTER 8: SERP SEO – why you need to stay on top of what the SERP looks like for your target queries and how to use the SERP to style your content

CHAPTER 9:  User Centricity – why focusing on users is important for SEO and how user experience impacts SEO

CHAPTER 10: Links – what link building looks like in 2023 and how to optimize your internal links

CHAPTER 11: Local SEO – how Google Business Profile is changing and thoughts around location schema

CHAPTER 12: Integrate – how you can be more effective at SEO by working more closely with other digital marketing channels

CHAPTER 13: Think Outside the Box – opportunities that could radically change the way that you do SEO over the coming year

CHAPTER 14: Analytics & Testing – what to measure, how to measure it and how to improve what you do through testing

CHAPTER 15: Evergreen Advice – Key elements that you shouldn't forget about – and if all else fails, how to find a new SEO job!
majestic.com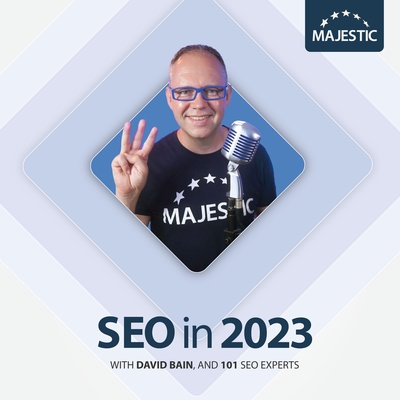 🎧 Podcast episodes
Listen to 167 episodes